A very warm welcome to you and thank you for taking the time to visit my website.
My name is Miriam Sherman and I am a certified Straightness Training Instructor by Marijke de Jong and Seat Instructor by Hanna Engström, who is also a licensed Bent Branderup Trainer. I call myself a coach rather than a trainer as my approach is very individual.
"Communication comes first"
I do coach mainly the horse owner to become aware of his/her own mental mindset, the body language, the energy, how to be present in the training himself and when and how to use technical aids to introduce a new exercise. Mostly it is not so much about the technical aids or how to teach a certain exercise as this can be learned in the different elements I like to work the horses in. It is more about "how can I create a good and lasting relationship with my horse through connection". This is more difficult as we humans are often not in the here and now. We are busy in our minds, busy in our actions, always having expectations and feeling often restless. All that can be sensed by our horse, and this will affect the training session.
"Mutual and respectful understanding"
Once, we have a mutual and respectful understanding we can start to train our horses to become balanced in body and mind. I believe that this represents the base for asking them to put a bit more effort in or stretch them a bit over the boarder without losing the trust in each other.
Both is equally important and has a firm position in my training. My slogan is: What I have experienced and lived through can be transmitted to the full extent to my students because "talking without action is like theory without practice".
Our life and training together with the horse can be a fantastic life-time journey if we allow ourselves to be authentic and open-minded.
Onwards and upwards.
I grew up with two Welsh Ponys my parents bought for us kids. Since we did not have much experience, we just sat on them, rode in the fields and tried not to fall off. We had the stable right next to our house, so we learned early how to take care of them, which worked out well but the riding skills and how to train a horse were far from good. I attended many trail rides and just loved to be with horses out in the nature having the adventure feeling.
I guess I watched too many western movies as a child, but to be honest I just loved it. In my twenties I began to take riding lessons on different horses to seriously start expanding my skills and experiences.
Everything takes its course
In 2001, I bought Misfit, a Welsh Cob section D, as a four-year-old, who was not trained or ridden. The first years I struggled with him, because not having much knowledge and experience of training horses myself, we had many ups and downs. With Misfit the journey began: So Misfit and me tried from TTEAM (Linda Tellington-Jones) to Centered Riding (Sally Swift), Michael Geitner and other German horse trainers to find a way to get more in harmony with each other. We were able to take out of them what we needed most at that time. One particular point is that the methodology has implied in me an ever better understanding of the "why-how-when" questions in horse training. And through this, an other important aspect has developed: clearer awareness of our actions with the horse. All this helped me in my personal development to find harmony with Misfit.
Academic Art of Riding by Bent Branderup
In 2007, I got in contact with the Academic Art of Riding by Bent Branderup and things seemed to work out better. The principles of the Academic Art of Riding, which are based on the historical grandmasters made more sense to me and I found myself comfortable with its approach how to train a horse. As a spectator and once as an active participant I attended many clinics. In 2020 I have started again to dive deeper in the Academic Art of Riding by attending online weekend seminars as a spectator.
Home Study Course von Marijke de Jong
In 2011 I joined the Home Study Course of Marijke de Jong and I was amazed by the lightness and harmony she demonstrated, setting a clear target for me: to reach exactly what she transmits not only in riding but also from the ground.
ST Mastery Course
In 2013, as one of first I joined the fully equipped in depth going ST Mastery Course with many how-to videos and teaching material, taking the student by the hand for each single step.
ST Instructor Program
In 2014 I could qualify for the ST Instructor Program and in 2015 I went through an intensive year of learning and growing in all aspects of life.
And "Action"
2016 to 2021, I worked and trained many riders and horses in private one-on-one lessons or multi-day workshops in Germany, Italy, Poland, Czech Republic, Austria and Switzerland. Likewise, I became a certified ST Evaluator, helping enthusiastic ST Mastery students internationally to the next level in their training through the specially designed ST Evaluation Program. Because of the pandemic, I gave more online coaching, which these days has proven to be the second best form of instruction, after live instruction.
Certification Seat Instructor
I became a certified Seat Instructor by Hanna Engström in Seat Program no. 1 to 5.
Warwick Schiller, Performance Horsemanship
Monthly online subscription. Through his numerous educational and "how-to" videos I could integrate a lot into my own training, which helped me to find a deeper understanding about certain behaviours horses show in combination with their humans.
Further education
Regular lessons with Hanna Engström
Masterson Home Study Course
Active participation in weekend course in Studen, Switzerland with a MMCP (Masterson Method Certified Practitioner)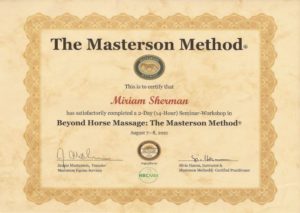 My own logo
I teach under my own logo to give more space to my horse & rider philosophy. Horses are a beautiful present given to us. Being in touch with horses, working, riding, communicating with horses has a special natural magic in which all our senses and emotions are involved. And also when it comes to teaching, I believe that a natural direct approach with horse/rider, combining individual tools "live" provides a fertile ground for development. I am very open and interested in positive approaches and methods that can make the horse-rider life better. Continuously learning and being open to new things mean a lot to me. That's why I take lessons myself on a regular basis. Likewise, I take part in various online courses to further develop myself didactically and practically. Of course with the goal to pass on my acquired knowledge and skills very gladly to my students & horses. The more horses and riders can benefit from a beautiful and fruitful togetherness, the more pleasure it gives me.